It's easy to choose a snowboard. We can help you determine your:
Ability Level
Snowboard Width
Snowboard Length
Riding Style and Favorite Terrain
These factors play a crucial role in choosing the right snowboard. CamRock, Banana C2BTX, sidecut, effective edge… oh boy there is a lot of information out there which is why we have created this easy to use snowboard guide to help you narrow down the options.
Length
How do you pick the correct snowboard length? The length of your snowboard will vary depending on your body weight and the type of riding you plan to do. Back in the day, traditional snowboard sizing meant you stand next to the snowboard and if the top hits your chin, great, it fits! While that may be a good place to start, weight is also very important factor in determining the appropriate board length. And another important consideration is the type of riding you plan on doing.
Additionally, consider the following factors when deciding on a snowboard size:
If you're riding primarily in the park or freestyle, pick a board on the shorter end of the size range.
If you're riding is mostly all mountain, powder or freeriding, consider a snowboard on the longer end of the size range.
If you are above average weight consider a longer snowboard.
If you are a beginner, aim for a shorter board in your size range.
Weight & Height:
For the average sized rider a board comes up to around chin height. However if you are tall and skinny you would ride a board shorter and if you are short and muscular you might want to ride something longer. This is why we always recommend choosing a board size based on weight rather than height alone.
Where You Ride:
This is important because some styles of riding require longer or shorter boards. If you spend more time in the park it is helpful to size down slightly to make quicker turns, faster spins and have more control while buttering through boxes and rails. If you prefer chasing powder and traveling overseas you may want a slightly longer board. The added surface area will help you float above the snow much like a surfboard in water. Typically for the average rider in Australia we recommend a slightly smaller board compared to what we might recommend to someone traveling overseas. 
 Below we have made a chart that will assist you in figuring out what snowboard size is right for you. As long as you fit inside the board size range you shouldn't notice too much of a difference: 
| | | |
| --- | --- | --- |
| Weight (kg) | Average Board Size (cm) | Board Size Range (cm) |
| 27 | 95 | 90-100 |
| 32 | 110 | 105-115 |
| 36 | 120 | 115-125 |
| 41 | 130 | 125-135 |
| 45 | 138 | 135-140 |
| 50 | 141 | 138-144 |
| 54 | 143 | 140-146 |
| 59 | 146 | 142-148 |
| 63 | 147 | 144-149 |
| 68 | 149 | 146-152 |
| 73 | 151 | 148-154 |
| 77 | 154 | 151-157 |
| 82 | 155 | 152-158 |
| 86 | 156 | 153-159 |
| 91 | 158 | 155-161 |
| 95 | 160 | 157-163 |
| 100 | 162 | 158-165 |
| 105 | 163 | 159-167 |
| 110 | 164 | 160-168 |
Ability Level
What is your ability level? There are snowboards designed for every ability level, each addressing specific rider needs. Flex, shape, length, construction, materials, design, and intended use are all important when crafting a snowboard for a particular ability level. Be realistic in assessing your own ability when researching and selecting a new snowboard. Finding the right snowboard for your personal attributes, including your ability will help make your riding experience more enjoyable and help speed your progression.
Width
How do you choose the correct snowboard width? When a snowboard waist width is sized correctly the snowboard boots will hang over the edges of the snowboard just slightly but not so much as to hit the snow when the board is on edge (see the images below). Extending the toes and heels slightly over the edges of the snowboard allows you to apply leverage to the board and modulate pressure with your ankles. If your boots extend too far over the edge, they'll hit the snow during hard turns and cause you to fall. To determine the proper snowboard waist width for your snowboard boot size view the chart below.
Snowboard Width and Boot Size Chart
| | | | | |
| --- | --- | --- | --- | --- |
| Boot Size (US Men's) | <7 | 8-9.5 | 10-11.5 | 11.5+ |
| Boot Size (US Women's) | 5-9 | 9.5-11 | 11.5+ | 13+ |
| Board Waist Width (mm) | 235-245 | 246-254 | 255-259 | 260+ |
| Snowboard Width | Narrow / Womens | Regular | Mid-Wide | Wide |

Snowboard boot sizes vary by manufacturer and even by model within a single manufacturer's line, so the outer sole of manufacturer A's size 11 might be slightly longer than the outer sole of manufacturer B's size 11. Similarly, some boots are specifically built with a low profile. The shorter outsoles of a low profile boot allow a rider to ride a narrower snowboard. Additionally, the ramp angle on snowboard bindings partially determines how large of a boot you can put on a particular snowboard - more ramp angle means a boot will sit higher and fit on a narrower board.
Riding Style and Favorite Terrain
What type of snowboard should you ride? While you can ride any snowboard on any type of terrain or in any snow condition, there are specialized snowboards for specific terrain, conditions and applications. For example, it's going to be more fun to ride a powder board in powder and a park board in the park. And while it's easy to over analyze the multitude of offerings available today, the following descriptions will give you a good sense of the major board categories.
 
All-Mountain
All-mountain snowboards are designed to work well in all snow conditions and terrain. They are at home on groomers, powder, park runs and almost anything in between. The vast majority of snowboarders choose all-mountain boards for their great versatility. If you're just getting started or unsure of exactly what you need, an all-mountain snowboard is a great choice.
Freestyle
Freestyle or park snowboards tend to be a bit shorter in length and love terrain parks, rails, jibs, trash cans, tree trunks, riding switch (non-dominant foot forward), wall rides and more. Freestyle boards often feature a true twin shape, and are typically selected by those looking to ride the terrain park. A more versatile variant of a freestyle board is the all-mountain freestyle, which combines the versatility of an all mountain snowboard with the playfulness of a freestyle snowboard. 
Freeride
Freeride snowboards are designed for the rider who spends most of the day off groomed runs and in varied terrain. They typically have a stiffer flex and are ridden in longer sizes than freestyle snowboards. Freeride snowboards often feature a directional shape that is designed to perform optimally in one direction.
Powder
Powder snowboards love powder. Often associated with freeride snowboards, powder boards sometimes feature a wider nose and a tapered narrower tail. The binding inserts, which determine the rider's stance, are often set back on a powder snowboard to help the rider float the tip of the board through the deep stuff. Powder snowboards sometimes also feature rocker, a design element where the tip (and tail) rise starts farther back on the board, which also helps the rider maintain tip float through the pow.
Shape
Directional Shape
Common among freeride and all mountain snowboards, directional boards are designed to be ridden predominately in one direction. They are often stiffer in the tail and softer towards the nose to help maintain stability while carving at high speed. Typically, the binding inserts are set back (set closer to the tail of the snowboard) sometimes up to an inch.
 
True Twin Shape
Twin shape (also referred to as a true twin) is completely symmetrical with identical tip and tail measurements and flex pattern. Bindings will be mounted in the center on a twin tip snowboard. Often found in freestyle snowboards the twin shape is ideal for terrain parks because of the ability to ride in either direction.
 
Directional Twin Shape
A combination of twin and directional snowboards, directional twins are a mix of both shapes. A symmetrical shape (similar size tip and tail) combined with a directional core (softer tip than tail) is common, as is the opposite: a directional shape but symmetrical core. Directional twins are most at home on all-mountain and freestyle terrain.
Rocker Type
Camber
Camber is the traditional profile for snowboards, and still popular among high-level park and pipe riders because it offers maximum energy and pop. A cambered board has a smooth arch underfoot and touches near the tip and tail when unweighted; when the rider's weight is added, it provides a long, evenly pressured running surface and edge.




 
Rocker
A rocker board (also called reverse-camber) is just as it sounds – camber turned upside down. The side profile is the opposite of a camber board, with a smooth downward curvature and less edge contact when the board is weighted. Rocker boards float well in powder and pivot more easily underfoot. They also tend to be less "hooky" at both tip and tail and better for landing spin maneuvers when you don't quite have enough rotation.



 
Flat
A flat profile is just as you'd expect – flat from near the tip of the board to near the tail. This shape splits the difference between camber and rocker, with more forgiving turnability than a fully cambered board and more precise edging capability than a fully rockered one.






These three properties: camber, rocker, and flat are combined in a variety of ways to create an array of rocker profile choices for riders.

Rocker/Camber/Rocker
Rocker/Camber/Rocker shapes seek to give you both hard-carving edgehold on firm snow from camber underfoot with enhanced turnability and float in powder from the rockered tip and tail. This profile is increasingly popular for freeride boards designed primarily for soft snow.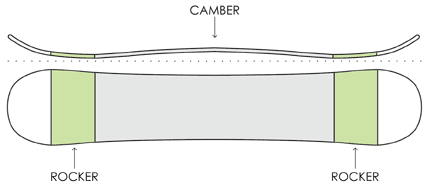 Rocker/Flat/Rocker
Rocker/Flat/Rocker is another variation on the rocker theme that seeks to provide a little more hard snow edgehold and pop than full rocker while retaining ease of turning and float. Performance is between a fully rockered board and a flat board.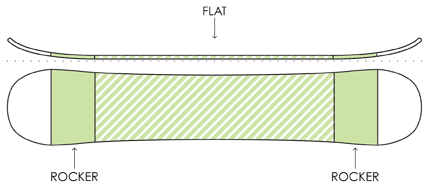 Camber/Rocker/Camber
Camber/Rocker/Camber is a profile that's specific to snowboards and which works because the rider's weight flattens the two cambered areas. This design produces a strong, pressured carving zone between the rider's feet and retains pop and carving precision at the tip and tail.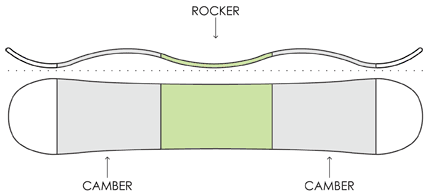 So what is better? The answer: no one profile beats the other and it really comes down to your personal preferences. Typically, camber offers better edge hold and stability on hard pack and at high speeds while rocker offers more float in the powder and catch-free edges for terrain park riding. The rockered snowboards can be great for beginners because they facilitate easier turn initiation. Advanced riders who like a loose feel may also enjoy riding a rockered board. 
 
Flex
The amount a snowboard flexes varies significantly between boards. Snowboard flex ratings are not necessarily standardized across the industry, so a "medium" flex may vary from brand to brand. Many manufacturers will give a number rating ranging from 1-10, 1 being softest and 10 being stiffest. Here at Elevation107 we have standardized the manufacturers' number ratings as a feel rating ranging from soft to very stiff. Generally we classify flex ratings of 1-2 as soft, 3-5 as medium, 6-8 as stiff, and 9-10 as very stiff. Flex ratings and feel may ultimately vary from snowboard to snowboard.
 
Softer Flex
Softer flexing snowboards (typically freestyle and some all mountain snowboards) are going to be more forgiving and easier to turn. A soft flex is good for beginners, riders with lower body weights and park riders. Soft snowboards tend to be a bit looser at higher speeds but can also provide a soft buttery feel at slower speeds.
 
Stiffer Flex
Stiffer flexing snowboards are usually built for freeride or backcountry use. They provide better edge hold and are more stable at high speeds. Stiff boards can be great for riders laying down high speed turns but tough for lightweight riders to flex properly.
 
Turning Ability
 Snowboards make different sized turns based on their sidecut radius, waist width and rocker.
 
Sidecut Radius
Sidecut radius is the radius your board would create if the curve of the edge was extended out into a complete circle. Smaller numbers for sidecut radius indicate a smaller circle. Imagine a smaller circle vs. a larger circle and laying your snowboard on edge to turn around that circle.
 
Waist Width
The waist width is the width of the snowboard at its narrowest point. It is typically measured in millimeters. Narrow waist widths can be rolled from edge to edge faster than wider snowboards. Snowboards are designed to be ridden with your toes and heels very close to the edge of the board and waist width should correspond roughly with boot size.
 
Rocker
Rocker in the tip and tail of your snowboard makes it easier to turn. Sometimes it is referred to as catch-free rocker because there is less of the snowboard edge to catch as you turn the board. 
 
Waist width, sidecut radius and rocker are listed in the specs for each snowboard we sell. Here is an example: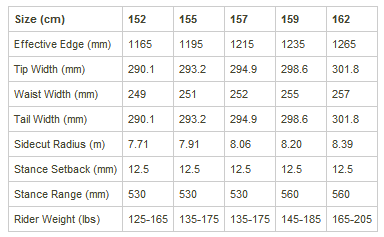 Snowboard Hole Patterns and Binding Compatibility
 
There are four different snowboard hole patterns that you will find on conventional snowboards. The patterns include: 4x4, 2x4, Burton 3D and Burton Channel. 3D and Channel technology are specific to Burton Snowboards*. 2x4 is just a variation of 4x4 that gives a rider more mounting options.
 
| | |
| --- | --- |
| 2x4 Insert Pattern | 4x4 Insert Pattern |
| | |
| Burton 3D Insert Pattern | Burton Channel Insert Pattern |
| | |

*Important note: Many Burton snowboards feature a Channel design. Most non-Burton bindings will require special hardware to be used on Burton snowboards with the Channel.
 
 
Snowboard Hole Patterns & Bindings Compatibility Matrix
4x4 hole pattern
2x4 hole pattern
Burton 3D pattern
Burton Channel
4x4 Binding Disk
x
x
Burton 3D Binding Disk
x
x
x
x
Burton EST Binding (no disk)
x

Please contact our store on (02) 9639 1000 for any questions about snowboard binding compatibility.
 
DISCLAIMER: THE MATRIX IS FOR INFORMATIONAL PURPOSES ONLY. IT IS NOT INTENDED AS A "DO IT YOURSELF" GUIDE TO SNOWBOARD BINDING MOUNTING, ADJUSTMENT AND/OR MAINTENANCE, NOR AS A SUBSTITUTE FOR PROFESSIONAL ADVICE AND SERVICE. ALWAYS HAVE YOUR SNOWBOARD BINDINGS MOUNTED, ADJUSTED, SERVICED AND INSPECTED BY A CERTIFIED SNOWBOARD BINDING TECHNICIAN. 
Women's Snowboards
For years snowboard companies simply sized down men's snowboards and applied pretty pink graphics featuring flowers and animals to them. Not anymore! Companies have created women-specific focus groups, beefed up their women's pro teams and created snowboards specifically for women based on their feedback. Women's bodies and turn mechanics are different than men. Since women tend to have less body mass and smaller feet than men of the same height, women's snowboards tend to have narrower waist widths, thinner profiles and softer flexes. 
Durability and Price Range 
Price is almost always a consideration when shopping. At Elevation107 we are very selective of the snowboards we sell. We strive to always offer quality products at the best prices, but there is a huge range of choices and prices. Details like the type of wood used in the core, type of laminates used in the layup, quality of base material and edges, and how all these elements are put together in a board affect both its ride and durability. Quality materials and advanced design cost money. If you plan to ride your snowboard for multiple seasons or ride many days in a year, spending a little more for quality and durability is probably worth it.
Snowboard Terms Glossary
Camber/Rocker Type - Camber and rocker refer to the profile and curvature of the snowboard. See our 
 
Core Material - This is the material that makes up the middle of your snowboard. Typically, core material is wood or a mixture of different types of wood. Foam and certain other materials can also be found in snowboard cores.
 
Effective Edge - The edge length of the snowboard that actually makes contact with the snow when the board is on edge is referred to as the effective edge. The effective edge is shorter than the snowboard length. A longer effective edge will add stability and a shorter effective edge makes your snowboard feel looser and easier to turn.
 
Extruded Base - Extruded snowboard bases are made from polyethylene (often called P-Tex). The term extruded refers to the process of heating and forming the material into sheets in the manufacturing process. Extruded P-Tex is relatively inexpensive. These bases do not hold wax as well as sintered bases, and so they can be slower than a well-tuned sintered base. However, an extruded base can perform better than an unwaxed sintered base and are very durable. 
 
Magne-Traction™- Magne-Traction™ is a proprietary, serrated edge technology developed by Mervin Manufacturing and found on Lib Tech, GNU and Roxy snowboards. Serrated edges are designed to cut into the snow like a knife and give you more edge hold and control than non-serrated edges.
 
Sidecut Radius - Sidecut radius is the radius your board would create if the edge was extended out into a complete circle. Smaller sidecut radii indicate a board that will naturally make smaller, shorter radius turns; larger radii suggest a board that will naturally make larger radius turns at higher speeds.
 
Sintered Base - Sintered snowboard bases are designed for super-fast glide. Like extruded bases, sintered bases are made from polyethylene (P-Tex). But unlike extruded bases, sintered bases are produced by compressing tiny pellets of polyethylene rather than melting and pushing it out in a sheet. Sintered bases are very porous and absorb wax well. When waxed and maintained properly, they are much faster than extruded bases. Often additional materials such as Gallium, graphite or Indium are added to the bases to provide increased impact resistance, durability and glide. Sintered bases are typically more expensive and can be more difficult to repair than extruded bases.
 
Tail Width - The tail width is the snowboard measurement at the widest point of the tail.
 
Tip Width - The tip width is the snowboard measurement at the widest point of the tip.
 
Waist Width - The waist width is the length of the snowboard at its narrowest point. Snowboard widths - tail, tip and waist - are typically measured in millimeters.