Snowboard bindings are an integral piece of a snowboarder's riding experience. Your bindings are your direct connection to your snowboard, transferring your muscle movements to your board. If your snowboard bindings are well matched to your board and style, your riding experience will increase. 
 
When you're shopping for snowboard bindings, whether you're new to the sport or replacing an old pair, it is important to consider: 
Riding Style
 
It is important to seek snowboard bindings that match your riding style. Snowboard bindings can fit into three general style categories. As important as it is for binding flex to match your style of riding, you should also determine the amount of binding flex you would want according to the flex of your boot. It would not make sense to have a stiff binding and a soft boot or vice versa. For the best results in tailoring your ride to fit your style, make sure that the flex of your bindings matches closely to the flex of your boots.

Flex Rating
Many manufacturers will give a number rating ranging from 1-10, 1 being softest and 10 being stiffest. Flex ratings and feel may ultimately vary from binding to binding.

Park or Freestyle
Riders who spend the majority of their time in the terrain park laying down tricks are considered park or freestyle riders. Snowboard bindings in this category generally offer a softer flex allowing greater room for error, easier landings, and the ability to tweak grabs.

All-Mountain
The all-mountain category includes riders who do a little of everything: powder, groomed runs, park, etc. These bindings usually have a medium flex for all-purpose use.

Freeride
This category is all about the steep and the deep – powder and speed on challenging terrain. These bindings have a stiffer flex for better response and energy transfer to the snowboard for going fast and going big.

 Types of Snowboard Bindings
 
Snowboard bindings can be divided into two general categories:
 
Strap-In Bindings
These are the most common type of bindings. They usually use two straps (one above or across the toe and one across the ankle). Strap-in bindings offer plenty of options for support, cushioning and custom adjustments. They are suitable for all styles and conditions of riding.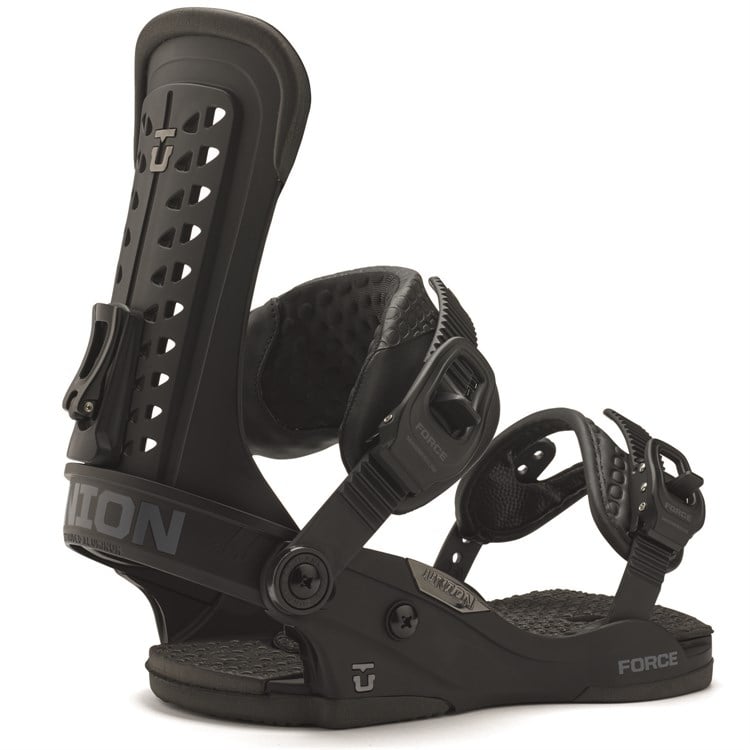 Union Force Snowboard Bindings
Rear-Entry Bindings
These are also called Speed Entry Bindings. They have a hinged high back that drops down like a draw bridge allowing you to simply step into the binding. In addition, the hinged back promotes quick and easy access in and out. No more making your skier friends wait for you. Rear-entry bindings are usually preferred by more comfort-oriented riders.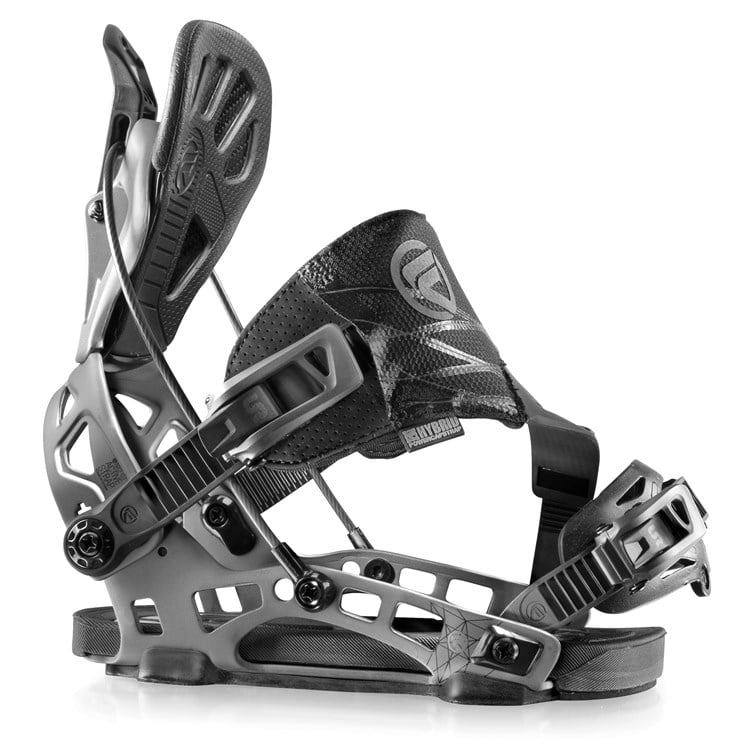 Flow NX2-GT Snowboard Bindings

Snowboard Binding Components

Snowboard bindings consist of multiple components:
Straps
Toe Cap Strap – This strap sits on the front of the boot, wrapping over the toe box for comfortable and stable positioning. This strap helps align the foot for better placement in the heel cup, ultimately giving more response to the board. 

Traditional Toe Strap – This strap is usually on lower-end bindings and simply holds your boot in place. It cannot be used as a toe cap strap.

Hybrid Toe Strap – This strap is usable in a traditional style over the foot or tilted forward for use like a toe cap strap.

Ankle Strap – Securely wrapping above the ankle, this strap is larger and without it the bindings would fail.

One Piece – Most common on rear entry and youth bindings, this is one giant strap that covers your boot from right before your ankle to just before your toes.
Highbacks
A highback is the vertical plate from heel cup to lower calf

It controls the heelside edge of your board.

Stiff and tall highbacks are intended for enhanced control and speed.

Soft and shorter highbacks are intended for park riders and beginners looking for flexibility and ease.

Forward lean adjustments on highbacks enable you to easily adjust your binding positioning on the go for placement preferences.

Bindings with no backs provide a more skate-like feel, allowing for more mobility in the ankle and looser control of your board. 
Baseplate
This is the main connection between the binding and the board.

Baseplates are made with a variety of materials that feature different strength-to-flex ratios. Higher end bindings will have stronger baseplate materials and will optimize board flex, power transmission and durability.

Cushioning on baseplates allow for comfort and power transmission.

Canting – A small amount of tilt in the footbed ergonomically angles your stance and knee position slightly forward for a more natural stance.
 
Fit and Compatibility with Snowboard Boots
 
Snowboard bindings come in general sizes – Small S/M, Medium M/L, and Large L/XL. It is essential to have the right size bindings for your boots, so always check out the manufacturer's binding size chart on individual product pages to see what size binding you need. 
 
Even after consulting the manufacturer's size chart, it is very important to check that the binding fits your boots. Do this by placing your boot in your binding as if you were to strap in; the boots shouldn't hang excessively off the bindings, nor should the straps be painfully tightened or have left over slack. If the strap ladder does not reach the ratchet, it may need to be adjusted - binding straps typically adjust from both sides in order to center the strap over your boot. The heel should fit snugly in the binding. A properly fit binding should allow the boot to flex, but not sway. If you have comfortable boots, and the bindings securely grip your boots with no extra play, then you have a good match. 
 
Compatibility with Snowboards
 
Just like snowboards, snowboard bindings come with different options for mounting. There are a variety of mounting options and hole patterns on snowboards. Most patterns are compatible with each other, but it's good to make sure you are not stuck with the wrong set. Luckily, most brands nowadays have universal discs or make multiple discs to cover different types of mounting holes, such as The Channel System from Burton.

2x4 and 4x4 Disc patterns
Common patterns of disc for mounting on boards

Difference is vertical distance (centimeters) between bolt holes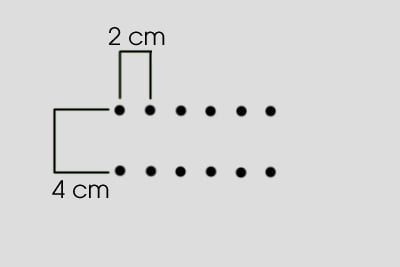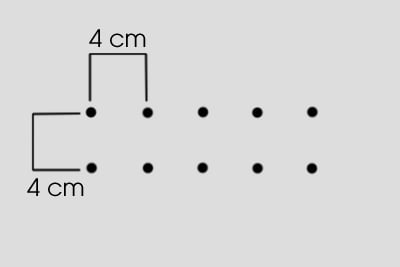 3D Pattern (Burton) 
Compatible with most hole patterns, but stance options are more restricted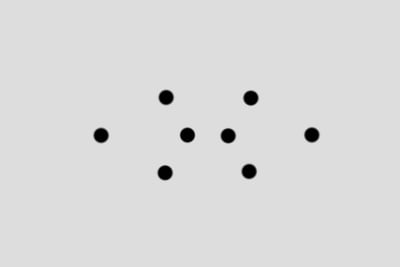 The Channel System (Burton)
Uses 2 rails instead of standard inserts

Best option is to purchase EST specific bindings made by Burton. EST Bindings allow riders' feet to have an extremely close connection to the board for increased board feel. EST bindings have considerably more stance options.

Burton offers a modified plate for non-EST Burton Bindings to use The Channel System.

Other brands are compatible with The Channel System with a special disc you can buy from the binding manufacturer.

Burton Channel System Binding Compatibility